The Art of Pairing: Johnnie Walker & Chocolate
Language: Cantonese
World class mixologist Antonio Lai, accompanied by Katie Chan, a professional chocolate connoisseur to explore the art of Johnnie Walker whisky and chocolate pairing. Enjoy the sharing between two top professionals alongside a special whisky mixology experience and a dedicated pairing moment to discover a new approach of whisky appreciation.
This programme brings you to the Johnnie Walker House, a unique and luxurious space for whisky lovers in Dream Cruises' Genting Dream. Audiences of this programme will have the opportunity to win a Dream Cruises — Genting Dream 3-night Super Seacation in a Balcony Stateroom for 2 persons during an interactive session. There will be 15 winners. Tune in for more details!
Speaker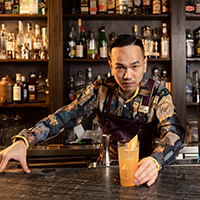 Mr Antonio Lai
Antonio Lai is an award-winning international mixologist who pioneered the comprehensive Multisensory Mixology concept in Hong Kong. Being the 2015 World Class Hong Kong & Macau champion, Antonio is also author of two cocktail books, a speaker at multiple international seminars and consultant for prestigious hotels and bars worldwide.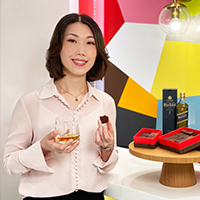 Ms Katie Chan
Chocolate connoisseur Katie Chan has long had a fondness for chocolate since at a young age. In 2015, she was appointed as Judge of the International Chocolate Awards World Final session and Consultant for one of Hong Kong's biggest chocolate events - The Harbour City Chocolate Trail from 2015 – 2019. She had also participated in the Academy of Chocolate Award as a judge. Now affectionately known as The Chocolate Lady in Hong Kong. When Katie is not busy conducting workshops or experimenting with new ways to pair chocolate, you are likely to find her happily chatting with anyone at her cafés sharing her love and knowledge of chocolate with everyone she encounters.
Tasting Kit (Sale has ended)
Perfect for the ultimate pairing pleasure, the kit offers you an exploration of the art of pairing Johnnie Walker whiskies and chocolates.
Johnnie Walker Blue Label Whisky 200ml x 1
Johnnie Walker Black Label Whisky 700ml x 1
Johnnie Walker bottle opener x 1
Johnnie Walker highball glass x 1
Johnnie Walker highball shaker x 1
Johnnie Walker measurement jigger x 1
Johnnie Walker twisted mixing spoon x 1
Pierre Hermé Paris chocolate box x 1
*Please keep chocolate box in refrigerator when receiving the kit
Tools and other items you will need
Fresh Passion Fruit x 1
Hot Water 100ml x 1
Lady Grey Tea Bag x 1
Sesame Oil x 1 bottle
Soda Water x 1 bottle/ can
White Sugar 30g
Cup x 1
Whisky glass x 1
Knife x 1
*Please have "Lady Grey Tea Syrup" prepared right before class:
Brew 1 Lady Grey Tea Bag in 100ml hot water for 5 minutes, then adding 30g sugar in the cup, stir well and set aside.