Top-Notch Service
Thoughtful services are key to winning the hearts of visitors and making them want to come back time and again.

To make visitors feel welcome in Hong Kong, the HKTB has been working closely with different parties to uphold a culture of hospitality and quality service throughout the tourism sector.
Quality Tourism Services (QTS) Scheme
Hong Kong Quality Tourism Services Awareness Enhancement promotion:

Publicity value: over HK$11 million
Video views: over 6.7 million
Impressions: over 340 million
Engagement: over 14 million
As of 31 March 2018, there were 1,244 QTS-accredited merchants covering over 8,100 outlets and 575 rooms in QTS-accredited licensed guesthouses in Hong Kong.
The HKTB and the Quality Tourism Services Association (QTSA) jointly rolled out the Hong Kong Quality Tourism Services Awareness Enhancement promotion in core second- and third-tier Mainland cities to raise awareness of the QTS Scheme via an array of news channels and social media platforms.
To encourage Mainland visitors to spend in Hong Kong, the QTSA introduced a campaign with UnionPay International in summer to offer attractive discounts to UnionPay cardholders at over 2,000 designated merchant outlets. The HKTB helped promote the campaign on DiscoverHongKong.com and other channels including the WeChat and other social media platforms of KOLs.
The HKTB joined hands with Krungthai Card Public Company (KTC) to offer its cardholders special discounts at over 220 designated QTS merchant outlets in Hong Kong. To raise the awareness of Thai visitors, we marketed the campaign across different promotional channels.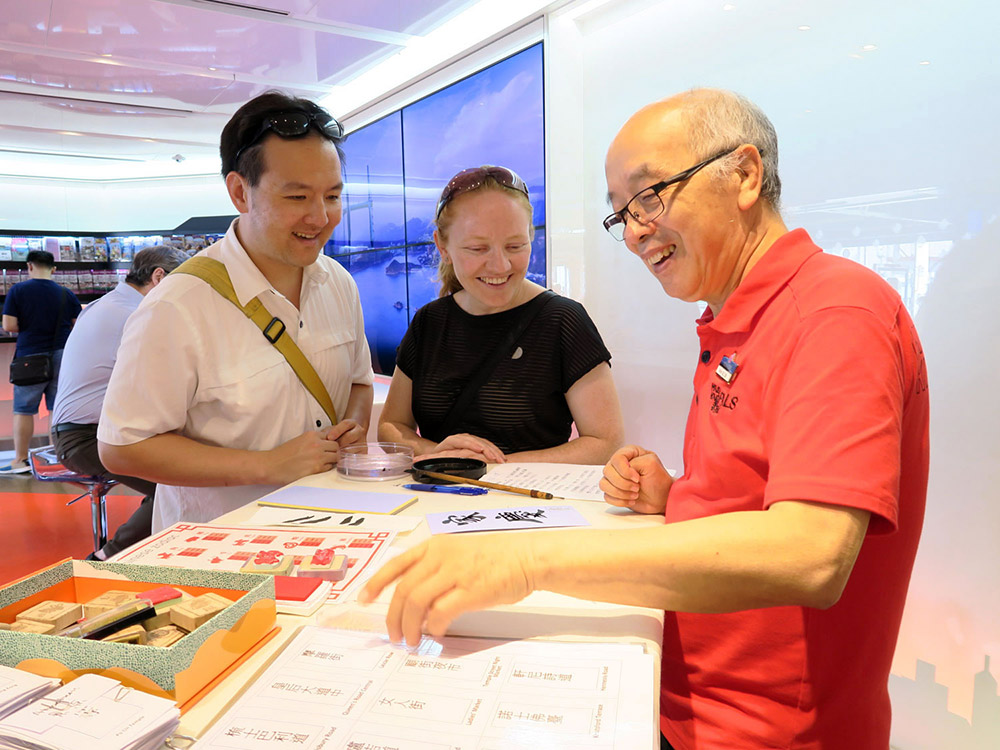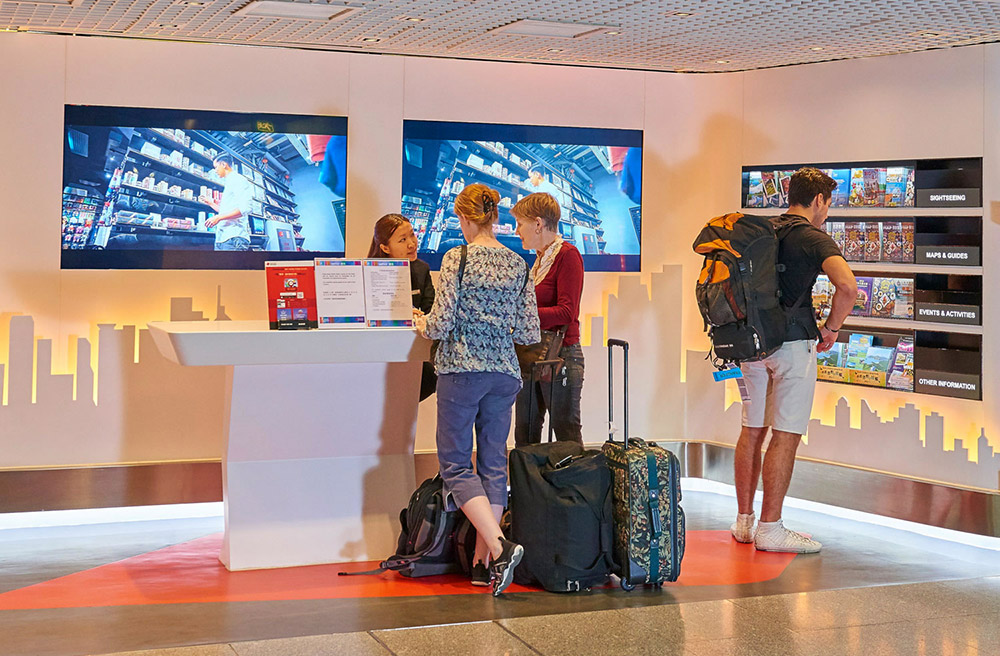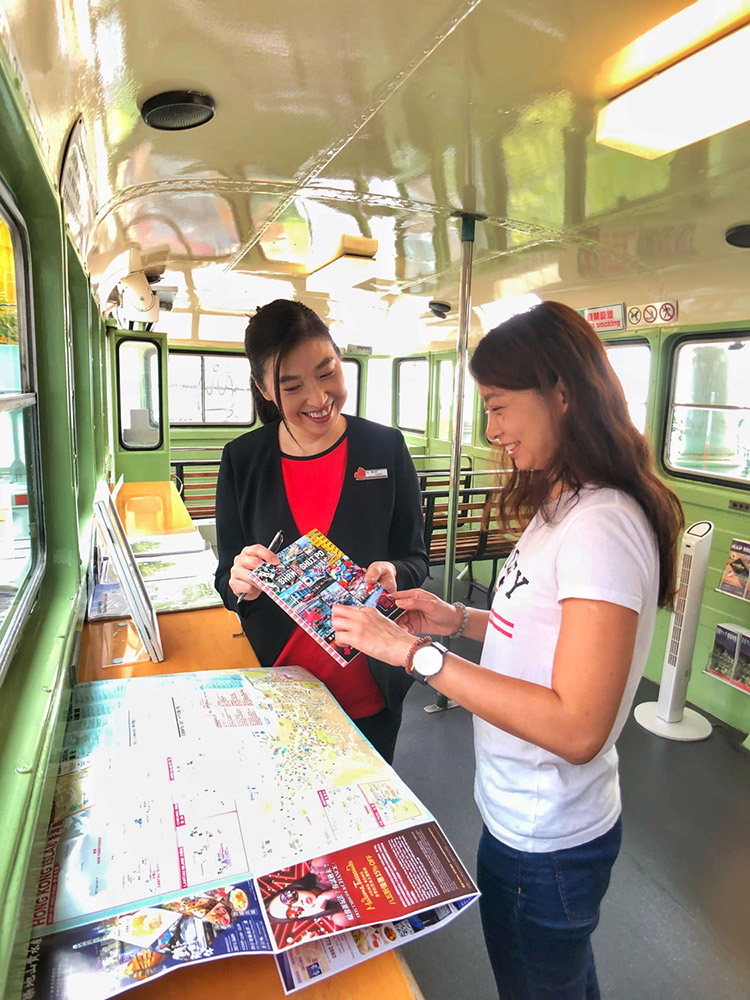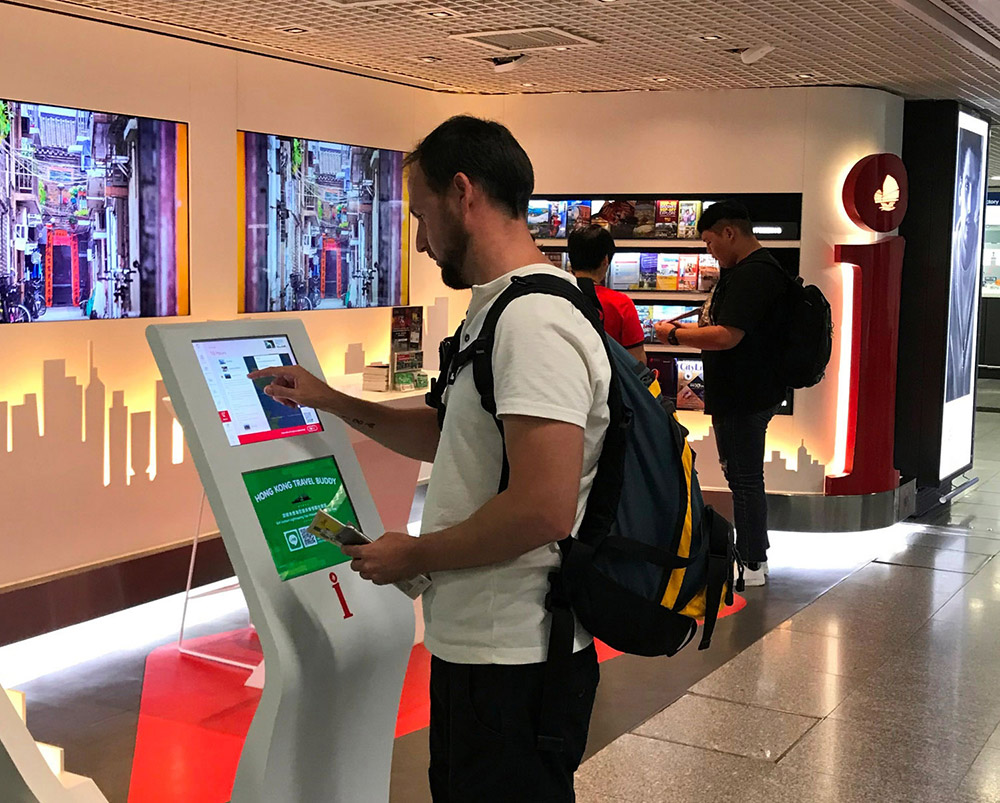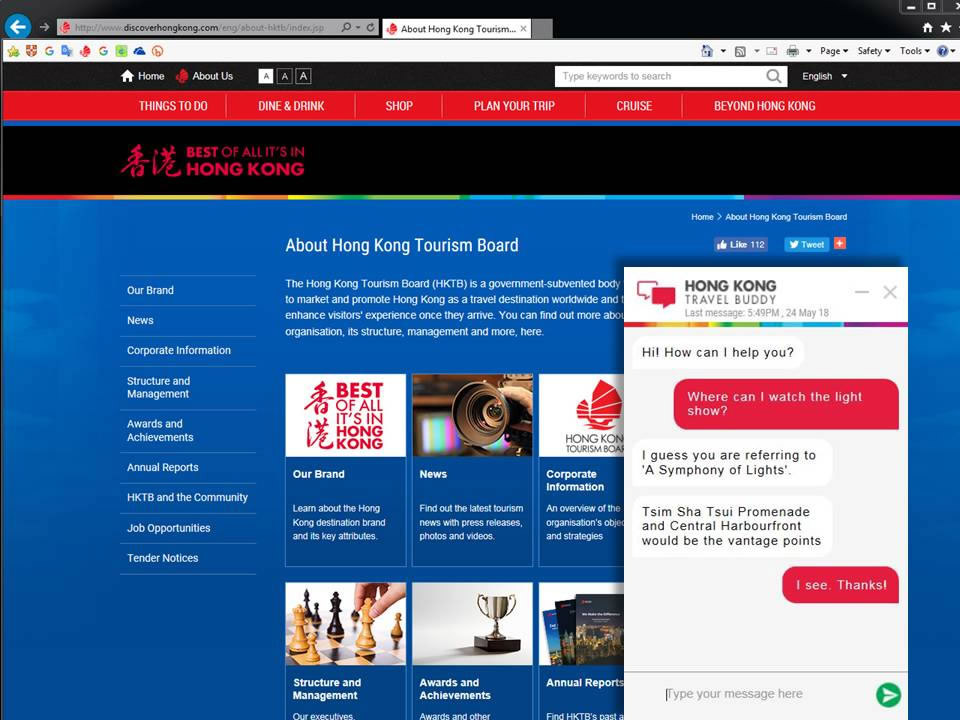 Quality visitor services
Number of visitors served by our Visitor Centres in 2017/18: over 1.5 million
Number of registered users of the Concierge Hotline: 160, including 115 hotels, 9 malls, 8 attractions, 5 QTS-accredited accommodation services, 9 QTS-accredited department stores and 14 MTR stations (Hong Kong railway stations)
It has always been our top priority to continuously enrich the visitor experience. While providing face-to-face services at our Visitor Centres and answering visitors' enquiries via the visitor hotline and email, we introduced two initiatives in early 2018 to give visitors brand-new experiences.
Our Visitor Centres at the airport had been further upgraded to provide instant service to visitors round the clock. Visitors can now download itineraries and other information directly onto their mobile phones at the self-service kiosks. The kiosks are equipped with the state-of-the-art chatbot technology which allows visitors to chat as in a normal conversation and get the information they need.
We launched a first-ever web chat service on DiscoverHongKong.com and My Hong Kong Guide app so that visitors can get advice and recommendations from Hongkongers instantly and explore Hong Kong like a local.